12 September 2012
Indonesian extremists praise 9/11 hijackers
J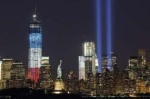 AKARTA — About 100 Islamic extremists on Tuesday praised the 9/11 hijackers at a rally outside the US embassy in Jakarta, as they celebrated the 11th anniversary of the deadly attacks
Demonstrators carried posters and banners, one declaring "We are all Osama" under a picture of the late Al-Qaeda leader Osama bin Laden, as dozens of policemen stood guard before the embassy.
Other banners read, "It is time for Islamic revolution", and "Democracy brings oppression".
"They (the hijackers) sacrificed their lives to defend fellow Muslims in Palestine," Muhammad Fachry, spokesman of the Sharia for Indonesia group, which organised the rally, told AFP.
"What they did was a reminder to the American government to stop oppression against Muslims and support for the Israeli government," he said.
Son Hadi from the Jemaah Anshorut Tauhid, which has been labelled a terrorist group by the United States and sent supporters to take part in the rally, told AFP: "What the hijackers did was the start of the Muslim war against Western hegemony."
Fachry said it was the first time his group, which was founded in 2010, had commemorated the attacks.
He referred to the hijackers as "the magnificent 19", and praised their "bravery".
"American arrogance collapsed together with the World Trade Centre's Twin Towers," the organisers said in a statement.
Muslim-majority Indonesia has suffered its own share of terrorist attacks over the past decade. The largest, by regional terror network Jemaah Islamiyah, were the October 2002 Bali bombings that killed 202 people, mostly Western tourists.