11 September 2012
Sexual harassment awaits Egyptian girls outside schools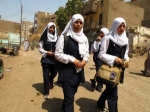 CAIRO: As the new school year begins next week in Egypt, school girls and their families are preparing to face yet another year of sexual harassment, this time waiting for the children outside their schools.
Egyptian mothers worry about their young daughters, who are subjected to sexual harassment outside their gated schools and daughters only pray to go home safely after the day has ended.
The phenomena of men waiting outside girls only schools to sneak a view, harass and self-expose themselves has made even school a difficult trip to take on a daily basis. Egyptian girls must join girls-only schools after elementary school in all public education, which has turned the gates of the schools into a pervert magnet.
I went to the Kolyet al-Banat school in Zamalek, an all-girls school from elementary through high school:
Right around the corner from our school is an all boys school similar in age group to ours, so we knew what was out there waiting for us every day after school. But it wasn't exclusive to naughty school boy behavior, we had adult men who also used to wait for the final bell to ring and the thousands of girls to come out. We had a guy who looked like a father of any one of us, a lawyer or a businessman carrying a briefcase, who used to stand there outside of our school every single day. Once the girls started to leave the school he would swiftly move his briefcase, exposing his penis to us. As children we would run away, some laughing and some crying. But he wasn't the only one. A building guard, or bowab as they are called in Egypt, who worked in a nearby building, a 60-something old man who wore the traditional male dress and sat on his bench watching the street. Once we passed by him, he would lift up his dress and expose his naked flesh to us. We stopped walking by that building and warned other girls as well.
When the problem became overwhelming and parents started to complain to the school and the police, the authorities and the Qasr al-Nil police station sent a police car that stood there outside of our school everyday during my senior year. Problems were getting out of hand and leaving the school meant being exposed to the worst of human nature. That was in late 1999, but the problem has not improved, not even slightly, since. In fact it became widespread to the point where mothers are hiding horror stories of what happens to their girls in school, fearing the father would prevent them from having an education.
Reem a young mother who knows of the atrocities waiting for her child outside of class, told Bikyamasr.com:
I tell my 14-year old daughter to look at her shoes at all times when she is leaving school and I make sure that I am there waiting for her before the final bell rings. "Her father made her wear a veil when she started exhibiting signs of puberty, thinking he is protecting her and for me to tell him of what lies outside her school will only make him sit her at home.
Now sexual harassment is no stranger to the experience of being a female in Egypt; in fact it became a fundamental element of being outdoors. Last week, the National Council for Women (NCW) said that Egyptian women get harassed 7 times every 200 meters, and a 2008 report by the Egyptian Center for Women Rights found that well over two-thirds of Egyptian women are harassed on daily basis. Even activists who protest the grotesque practice are also harassed, defying logic.
But a generation of back bent girls lying about the daily violations is not a very sustainable solution, nor is having an army waiting to protect them. So what is? Could it be tougher penalties for those who now cross the line between sexual harassment to pedophilia or having more and more theatrical campaigns that are met with solid concrete walls of reality? Or perhaps it should start from inside the family and schools who produce generations of child molesters and exhibitionists who come back to bite them where it hurts?
Threatening to take away girls education due to the perverseness of a culture that sees them as sexual objects, even when they are as young as pre-teens, rings more danger bells than our hearing seems to comprehend.
More Egyptian girls acquire higher marks in high school every year. More get into "top" schools such as medicine and media. And yet these girls have to go through that battle every single day. Bred from an early age to ignore sexual violations against them as they focus on their future.
In the 1980s, a popular play "Sook ala Banatak" or "Lock your girls," a father is met with the challenges of raising girls in a patriarchal society. All he can do is try to forcibly marry them to his colleagues so he can move on and get married to the woman he loves. But at the end he comes to the romantic notion of how fathers should lock their girls, but give them the key.
A romantic notion that sees girls as the problem and the solution, in denial of their second grade status in the family, at work, or their own families afterward. But in a society where women's existence itself in public is threatened, more than a key should be given to them; more like their dignity and their self-respect.
And mothers should teach their girls to straighten their backs, and face violations since burying ones head in the sand only grants more power to the monsters.