11 September 2012
Mahmoud Yousef Hindi Charged With Killing David Merritt In Homeowners Meeting Shooting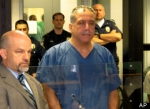 A Louisville man accused of opening fire at a homeowners association meeting, killing one and critically wounding another, was ordered held on a $1 million bond Saturday at an initial court hearing where a prosecutor called him "the epitome of danger to the community."
A not guilty plea was entered on behalf of 55-year-old Mahmoud Yousef Hindi to charges of murder, assault and wanton endangerment in the Thursday evening shooting at a church.
Dressed in a blue jail outfit, Hindi showed no emotion and did not speak as he stood before a judge.
Afterward, defense attorney Todd Lewis called the case a "horrendous tragedy" and said the Hindi family's thoughts were with the victims' families. Lewis asked for patience in unraveling the case.
"We look forward to our day in court," he told reporters. "There's always another side to things."
What specifically sparked the attack wasn't clear.
Police say Hindi, a doctor educated in Jordan, had a history of disputes with the homeowners group revolving around a fence that the association said didn't meet its height or design requirements in the upscale neighborhood of Spring Creek.
The association's attorney says the organization brought the zoning violation charges to the city. Hindi wrote several letters to the attorney, expressing anger and contempt for the attorney.
In one letter that ranted about several neighbors, Hindi cited the Quran, the theory of creationism, the idea that America has gone to Communism, threatens to form his own homeowners association and accused neighbors of stealing his "no trespassing signs" in the dispute over the fence.
"You would not believe some of the crap he wrote in these letters," said Mark Wagner, a former president of the homeowners association. "It was rambling stuff."
Wagner, who used to live near Hindi, said his predecessor as association president resigned from the post and abruptly moved from the neighborhood after having property-line disputes with Hindi.
"They were so scared of him that they moved," Wagner said in a phone interview. "They dumped their house. They sold it to the first person who looked at their house ... to get away from this guy."
Police say Hindi was at the homeowners meeting for a short time before he started shooting. Some of the several people in attendance detained him until police arrived. Police did not immediately release other details such as what sort of weapon was used.
Slain was 73-year-old David Merritt, a one-time association president, who was shot once in the head and died at the scene, according to a deputy coroner.
The wounded man, whose name was not immediately released, was in critical condition Saturday at University of Louisville Hospital.
Barbara Pass, who lives down the street from Hindi, said people were intimidated by him.
"He threatened people, he would say things like, `You know I've got a gun and I just might use it.'"
Two of Hindi's brothers and one of his sons watched the brief arraignment via closed-circuit television in another room. They declined comment as they left the local jail where the hearing was held.
"The family is in a state of shock and disbelief as to what has happened," said Khalid Kahloon, another attorney representing Hindi. "This is a ... peace-loving, law-abiding family enjoying their American dream, and then it's shattered by this unfortunate and very tragic incident."
His attorneys asked the judge for a much lower bond. Kahloon called him a "complex man" who "is not a danger to the community in the sense that this crime is not a random, violent crime."
Kahloon cited another neighbor's favorable comments about Hindi. The neighbor, Marty Swiergosz, told The Courier-Journal that he got along well with Hindi and Hindi's family.
"It's real complex because they were nothing but good to me," Swiergosz said of the Hindi family. "They'd give us stuff out of their garden. He always wanted to feed our dogs. That was 98 percent of the time."
Swiergosz described Hindi as a "passionate man," but told the Louisville newspaper that he wouldn't repeat some things Hindi had said.
Prosecutor Joe Martz objected to lowering the bond.
"He is the epitome of danger to the community," Martz said at the arraignment.
The judge kept the bond at $1 million and set a pre-trial hearing for Sept. 14.
Hindi is a Jordanian-American citizen who worked in nuclear medicine, Kahloon said.
Hindi was unable to keep practicing medicine because of health problems – he recently had back surgery – and his medical license had expired, the attorney said.
Kahloon mentioned one other time when Hindi had a brush with the law, when he was given a traffic ticket in another county for exceeding the speed limit by 7 mph. Hindi had failed to appear for a hearing on the citation, resulting in a bench warrant, the attorney said.