07 September 2012
Mallorca: Female Traffic Wardens Withdrawn From Area Around Mosque Because of Insults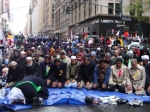 Only male traffic wardens are now active in the mosque area in Palma's Pere Garau district. Dornier, the company responsible for the concession, made the decision after various
incidents occurred. Female employees were insulted by men who were visiting the mosque, the company said.

Initially it was decided that the traffic wardens would patrol the neighbouring streets in twos. But because of a lack of staff it was ultimately decided to withdraw the female traffic wardens.

The charges were disputed in the Muslim Association of the Balearics. At no time was the city council asked to withdrawn female traffic wardens, they said. They respected the women and their work. However, many visitors to the mosque were angered by the tickets. The parking situation was difficult, they said, and many of the fauthful were unemployed.