27 August 2012
Muslims in Germany Tried Twin-Track Approach to Silencing Islam-Critical Book Author: Prosecution and Assassination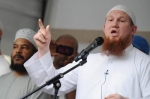 I've written a few times about Zakid Khan, a former Muslim resident in Germany who wrote Die Verbrechen des Propheten Mohammed (The Criminal Acts of the Prophet Mohammed), published in both English and German.
It seems Muslims adopted a twin-track approach to trying to silence him. On the one hand they pursued a prosecution against him in the Darmstadt courts; on the other they tried to arrange his assassination. The prosecution, initiated by Muslim activist Stefan Salim Nagi, collapsed in June. Nagi was approached by Muslim convert and prominent Salafist preacher, Pierre Vogel, to arrange Khan's assassination.
Vogel wanted Nagi to give him 30,000 euros to pay for the "hit". This was a step too far for Nagi, though, who went to the authorities. Nagi soon started receiving death threats himself, and both he and the book's author are now in hiding, having been given official protection. Meanwhile, the Darmstadt prosecutor's office is investigating Pierre Vogel for his role in attempting to arrange an assassination. They may have problems bringing him to justice, though, as some recents reports have indicated he has joined the expatriate German Salafist colony in Egypt.
http://islamversuseurope.blogspot.co.uk
Source: Echo-online Via