27 August 2012
Egyptian Officials Say Released Terrorists Behind Sinai Attack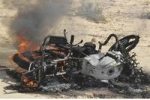 Egyptian security officials: several of the terrorists involved in recent Sinai attack had been released from prison by Morsi.
Egyptian security officials claimed on Saturday that several of the terrorists involved in an attack on a border post with Israel earlier this month are Jihadis who had been recently released from prison by the Egyptian president.
The sources told the Bethlehem-based Ma'an news agency that forensic authorities have determined the identities of some of the seven terrorists who were killed by the Israeli army during the assault on August 5, and can confirm that at least three of them are Egyptians.
Two are from Rafah and Sheikh Zuwaid in the Sinai Peninsula, and the third -- who had recently been released -- is from Mersa Matruh in northern Egypt, the sources claimed.
Another three people security forces say were involved in the attack had been released by President Mohammed Morsi 45 days before it took place, the sources said.
They named them as Mahmoud Abdullah, 35, seized from Naja Shabana village a few days after the attack, and Abu Al-Miqdadm Abu Khalid and Abu Abdullah who were killed in the attack.
The sources said that after they were released from custody by Morsi they headed to the Sinai Peninsula to join Jihadi groups launching the attack, which left 16 Egyptian border guards dead.
There are 16 people still on a wanted list for involvement who are from Rafah and Sheikh Zuwaid. They are under observation but cannot be captured as they are hiding among Sinai civilians, the security officials said.
After the attack, Gaza-based terrorists were blamed for carrying it out. One report said that the Gaza-based terror group Army of Islam is behind the attack. Army of Islam is an Al-Qaeda inspired group that wishes to see Gaza run by Muslim Sharia law.
Egypt launched a crackdown on Sinai terrorism in response to the attack and began to seal off smuggling tunnels into Gaza.
Egyptian police last week said they had identified 120 individuals in North Sinai who are wanted for attacking police stations and killing policemen. A security source in the area said that there are close to 1,600 terrorists in the area.