24 August 2012
Germany: Muslim Executes German Wife and Two Children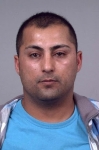 German police are hunting a man suspected of shooting dead his wife and their two children at their home near Düsseldorf on Monday night.
Police and public prosecutors said on Tuesday they suspected the 35-year-old shot his family and could still be armed. "We have to get him as fast as possible," said Guido Adler, head of the Düsseldorf murder squad at a press conference.

The man was known to the authorities for repeated violence against his wife, said Adler. The police had often been called to the family's flat over the past couple of years, while the social services were also in contact with the family, he said, although the children were never hurt or neglected.

He confirmed that the 26-year-old woman, her four-year-old son and eight-year-old daughter had all been shot dead.

Police were called to the flat in Neuss by a relative of the woman who said she had gone to visit and that although there was music playing inside, no-one answered the door when she rang.

Officers who entered the flat found the bodies of a four-year-old boy, his eight-year-old sister and their 26-year-old mother. There was no trace of the father who police are now trying to find.