17 August 2012
A Christian Pastor kidnapped in Pakistan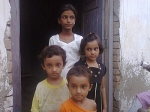 (The Voice) Pastor Kelvin, aged 32, was kidnaped on August 12, 2012, when he went to shop Pakistani flags to celebrate Pakistan Independence Day falling on August 14, 2012, with his family
Pastor Kelvin, resident of village Chak No 371, in Nankana Sahib District of Punjab province of Pakistan was a preacher among Christians and Muslims on which radical Muslims were threatening him from months.

The Christian mother sentenced to death on blasphemy accused named Asia Bibi also resided in this district of Punjab who is waiting for her appeal in Sheikupura jail.

The Voice team comprised of Mr. Shahid Anthony, Mr. Khurram Akhtar, Mr. Gohar and Mr. Mehboob visited family of Pastor Kelvin and met with his neighbors also on August 14, 2012.

According to The Voice team investigation, the Pastor was preaching Christianity in the Non- Christian areas as well, and it was becoming a danger for the non-Christian people because other people were showing interest in Christianity and were willing to Embrace Christianity. Pastor Kelvin started to get the threats for life when he started converting people to Christianity.

Pastor Kelvin has five children and a wife. He has two sons and three daughters namely Roma, Anmol, Daniel, Ismail, and Angel.

The wife and brother of Pastor Kelvin told visiting The Voice team that he went out on 12th August Sunday afternoon to the market to buy gifts on the occasion of Independence day of Pakistan i.e. 14th August and never came back.

Later in the evening his wife got a phone call from some unknown number that Pastor was in the custody of some people. They did not tell their names but just informed that they had the Pastor, and also threatened her not to inform the police.

The Voice team went to the police station filed an application for kidnapping of the pastor and now the Voice team is inclined to file Habeaus petition through Advocate Tahir Gull legal associate of the Voice Society.