16 August 2012
Egyptian rights groups denounce 'inhumane' tests on inmates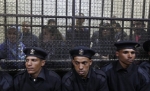 A report issued by a group of Egyptian human rights organizations revealed that prison inmates are subjected to "inhumane" tests following visits by their family members.
The report, prepared by Tahrir Doctors, the Doctors' Syndicate in Cairo, The al-Nadeem Center for the Rehabilitation of Victims of Violence, Hisham Mubarak Law Center, and the Egyptian Initiative for Personal Rights, stated that prisoners are forced to drink water with soap, which causes severe vomiting and diarrhea. This way, the prison administration can make sure their stomachs do not contain any "prohibited items."

The procedure, the report explained, follows visits by family members who are suspected of bringing prisoners items that are banned.
The report proposed other ways that are sanctioned by law and not humiliating for the prisoners in order to reach the same result like using x-ray machines or ultrasound. The report also recommended that the procedure be only performed on inmates that have aroused suspicion.

The report focused on Tora Prison, which houses youths arrested during Defense Ministry protests. In addition to the water and soap procedure, the report also pointed to the deplorable conditions in which prisoners live due to overcrowded cells, lack of proper ventilation, shortage of medical supplies, and absence of leisure breaks.

The prison administration, said the report ignored that the human rights delegation conduct full medical examination on prisoners and only allowed them to examine them externally and ask them a few questions.

The delegation announced its intention on launching an initiative in which members of civil society and human rights organizations would gain full access to prisons and hospitals affiliated to them in order to provide inmates with the required medical care. They also demand having the right to examine the prisoners' medical records.