04 August 2012
Unsubstantiated charges raised against five detained Christians in prison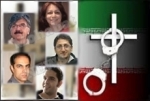 It is six months now that five Christian converts are being held in Adel-Abad prison in Shiraz. Security and judicial authorities are making efforts to raise and magnify unsubstantiated charges against these Christians in order to impose more pressure on them. By doing this, they are also seeking to intimidate and terrorize other Christian groups.
Reporters of Iranian Christian news agency, Mohabat News, indicate that five Christian converts namely Mrs. Fariba Nazemian, Mojtaba Hosseini, Homayoun Shokouhi, Mohammad-Reza Partoei (Kourosh) and Vahid Hakkani were told in a court session that they will be held in prison for two more months without a decision being issued for them! It is not clear who was present in the court session, where it was held or whether the detainees were allowed to hire an attorney or not? What is clear ,though, is that they will need to spend two more months behind bars with their fate unknown.
In the mentioned inquisition court session they were asked if they have changed! [Meaning if they have repented from Christianity and returned to Islam] The court authorities also insulted them and claimed that they have created a new sect for themselves which is not from the Gospel and is not Armenian or Assyrian!
Also, to maximize their unsubstantiated charges, the authorities claimed that these Christian detainees haveburned a copy of the Quran in the home of one of their friends called Kourosh! It is obvious that this is a false claim brought up only to intimidate the detained Christian converts and to magnify their charges in court. They were also told to defend themselves against the charge of having political contacts with foreign countries!
What does it mean that these security and judicial authorities have brought up such claims?
In order to bring more pressure on Christian detainees, when dealing with their cases the Iranian judicial and security system has often sought to create a negative view of Christians and change public opinion and the international community's view by labeling them as political and referring to house-churches as political meetings. They also charge Christian detainees with spying for Israel and having contacts with foreigners. Islamic Republic authorities seek to clear religious charges from Christian cases and raise political charges instead, in order to be able to convict Christians and achieve their goals. They will even add the charge of "insulting sacred figures" to their cases. Dozens of Facebook users who are currently held in Evin prison were also charged with this offense.
More investigation and interrogation!
Reports received at Mohabat News reveal that the five Christian converts were separated and transferred to different wards of the prison last week. These wards are known to have poor hygiene conditions and the guards mistreat and insult their prisoners.
According to the reports, the Christian converts' case was sent to branch seven of the Revolutionary Court in Shiraz for the second time. For some reason the case was considered incomplete which means that the authorities need to conduct further investigations on the case and interrogate the detainees further!
After their arrest by security authorities on February 8, 2012, the Christian converts were transferred to the custody center of the Intelligence Office in Shiraz, known as Pelak-100, for interrogations.
According to published reports, the first interrogation session was held in branch seven of the Revolutionary Court in Shiraz, chaired by Mr. Rezaei, after these five converts had been detained in uncertainty for 80 days.
It is said that legal process is not being followed in dealing with these Christians' cases. Judicial authorities were also heard saying that no bail would be accepted for the Christians' temporary release.
Although their situation is still unclear six months after their arrest, there is no doubt that the Christians' only crime is related to their faith in Jesus Christ.
Therefore we call on human rights groups as well as groups and organizations advocating on behalf of Christian prisoners, to spread the news and make the situation of these Christian detainees known, to condemn these interrogation courts and call on security and judicial authorities of the Islamic Republic to secure the Christians' immediate release.