02 August 2012
Egyptian court sentences man for insulting Prophet's companions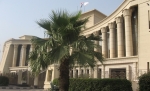 Mohammed Fahmy, an Egyptian citizen, has been sentenced to one year in prison for insulting Prophet Mohammed's companions and "spreading the Shiite doctrine." His initial sentence was three years in prison and a fine of around $16,458. (Reuters)
By Al Arabiya
An Egyptian court has sentenced Mohammed Fahmy to one year in prison on Tuesday for insulting Prophet Mohammed's companions and "spreading the Shiite doctrine", according to a newspaper report on Tuesday.

His initial sentence was three years in prison and a fine of around $16,458, but an appeals court reduced the sentence to one year, reported the Egypt Independent.

Fahmy's lawyer, Youssef Qandil, said the verdict was "personal" and fabricated," and said he would submit a complaint to the United Nations.
The paper said that Fahmy embraced Shiite Islam last year, an act that irked people in his village in Kafr al-Zayat, west of Egypt's delta in al-Garbiyah Governorate.

A group from the Muslim Brotherhood tried to convince him to renege on his decision and even arranged a meeting with al-Azhar University professors but their attempt was futile, the paper added. The meetings which usually ended in fights, prompted the group to warn the village's youth not to be influenced by Fahmy's beliefs.

It is the local residents who filed a complaint against Fahmy with the police, accusing him of inciting sectarian strife.

Egypt is the most populous country in the Arab World, with more than 80 million people of which the Shiite population accounts for between 800,000 and two million.

The country's Shiite community leaders claim they were persecuted during the tenure of former President Hosni Mubarak.

In December, security forces shut down Cairo's Hussein Mosque, to stave off angry people from reacting Shiites commemorating Ashura, an annual event that marks the death of the Prophet's grandson Imam Hussein.