01 August 2012
Too much faith in our money, or vice versa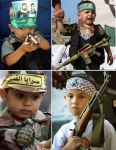 A strange way to represent the Muslim faith in Australia - by ripping off students and taxpayers:
AUSTRALIA'S biggest Islamic school has been ordered to pay back $9 million in public funds to the NSW government after it found millions in taxpayers' money had been diverted to the country's peak Muslim body.
Malek Fahd, which has more than 2000 students at its Greenacre campus in Sydney's southwest, receives almost 75 per cent of its funds from state and commonwealth governments.
Following an audit ordered by the federal government after reports in The Australian raised concerns about the school's financial relationship with the Australian Federation of Islamic Councils, Malek Fahd has been told to repay funding given to the school by NSW since 2010 and remains ineligible for state government funds…
In August last year, an investigation by The Australian revealed that AFIC had been charging Malek Fahd millions of dollars in "management fees" for non-existent services and inflated rents…
Mr Patel has not given an account of the funds once they went into AFIC, with a federal audit of the school ordered by Mr Garrett after The Australian found the school achieved no value for money for a range of payments worth millions of dollars to AFIC.