29 July 2012
Muslims Who Attacked Police Refused to Recognise French Law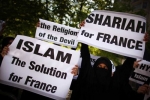 A couple of days ago, I posted France24's account of the Muslim mob attack on police in Marseilles while they were trying to do an identity check on a burka-wearing woman.
Le Figaro also published a report on it, which has some interesting details the France 24 account left out, notably those that relate to the Muslims declaring that they refused to recognise French law.
It is around midnight. Two police officers are patrolling in the IIIe arrondissement of the city, close to the Es-Suna mosque. They then see a woman dressed in a burka. As the law authorises them to do, they decide to check her identity. When the officers approach the young woman, she starts to yell and tries to strike one of them. According to the statements of the police officers, Louise-Marie, 18 years old, said that she refused to submit to the identity check "because she didn't recognise French law".

Immediately, a man of around 40, intervenes to help the young woman. According to the statement, he yells that "this was his place and the police don't make the law here." Within a few minutes, around 50 people are encircling the two police officers. Several of them start to strike them and try to knock them down. However one of the police officers manages to make a radio call to colleagues. A police woman arrives to reinforce them and tries in her turn to arrest the veiled young woman. But she reacts violently and bites her forearm.

Finally, Louise-Marie, Michel and two other men are arrested and taken to the police station in the XVe arrondissement. However, the prosecutor's office decides to release them a few hours later, with a simple summons. The decision shocks the Marseilles police. "We would have wanted them to be held for a longer time at least," explains Lionel Vidal, local delegate of the Unité SGP Police trade union. "The officers hadn't even finished writing their reports and they were already out."
Source: Le Figaro