14 July 2012
Allegan: Alleged ex-Muslim terrrorist's speech shut down for safety, not message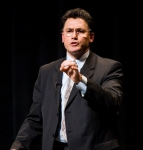 ALLEGAN, MI – The city of Allegan said it shut down a controversial speaker over safety concerns, not the content of an alleged former Muslim terrorist's speech.
The city has asked that a federal lawsuit filed by state Rep. David Agema, R-Grandville, and others, be dismissed.
The lawsuit was filed in U.S. District Court in Grand Rapids after Allegan police prevented Kamal Saleem, a self-styled former Muslim terrorist, from speaking in January at Allegan High School.
Police Chief Rick Hoyer shut down the event after police received information that Saleem was the subject of death threats from Muslim extremists with a $25 million bounty on his head under a Fatwa.
"(The city) learned this information immediately before the event began," attorney Thomas Meagher wrote in a motion to dismiss filed today.
"Several other activities were taking place at the school at the time of the event. After learning of the death threats and significant bounty, overriding safety concerns – not the subject matter of the speech – compelled a decision that the event should not go forward."
He said the city and police have immunity, and that the claims should be dismissed because the plaintiffs do not allege that the defendants were personally involved in allegedly depriving the defendants of their First Amendment rights.
Meagher also noted that the plaintiffs, who filed suit on April 30, have not served any of the defendants with a summons and complaint.
The city has disputed allegations in the lawsuit.
The defendants include Hoyer, City Manager Rob Hillard, police officers, school officials, Council on American-Islamic Relations Executive Director Dawud Walid and People for the American Way President Michael Keegan.
The attorney said federal courts have held that police are protected on qualified immunity grounds on claims they deprived First Amendment rights "where the officer faced a situation he reasonably believed could have escalated into violence."
The Thomas More Law Center is representing the plaintiffs in the lawsuit.
Allegan County Commission Bill Sage organized the event, which was intended to "recognize the internal threat to America posed by radical Muslims … ," attorney Erin Mersino wrote.
Organizers had rented the room for three hours. About 150 attended.
Saleem is leader of Koome Ministries, which "teaches about the dangers of radical Islam and spreads its message through education, building relationships and prayer," Mersino wrote.
Saleem says he is a former Muslim terrorist turned Christian.
Others, like Walid, who is being sued, call Saleem a "bogus ex-terrorist."