28 June 2012
Stockton Muslim cleric faces deportation to Pakistan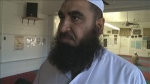 STOCKTON, CA - The spiritual leader of Stockton's largest mosque faces deportation to his native Pakistan because he cheated on his taxes
Saeed Ur Rahman, imam of the Islamic Center of Stockton, was convicted by a federal jury in Sacramento last fall on two felony counts of tax evasion.
News10 has learned the federal government will seek a one-year prison term for Ur Rahman at a July 5 sentencing hearing, which would trigger permanent expulsion from the United States after his release.
Tax evasion with a loss to the government exceeding $10,000 is considered an aggravated felony for immigration purposes.
Sources said the criminal investigation was initially launched by the FBI's anti-terrorism task force because of Ur Rahman's ties to Pakistan.
The US Attorney's office in Sacramento would not comment on the investigative path that led to the tax fraud conviction.
Ur Rahman was convicted of underreporting his personal taxes by $238,000 in 2004 and 2005.
Ur Rahman, 45, spoke to News10 through a translator following an afternoon prayer service on Wednesday.
"The problem he's facing is an error in filing his income tax. He didn't do it intentionally," said Mohammed Saeed.
When asked if he believed the prosecution and potential deportation were motivated by his nationality and religion, Ur Rahman said he didn't know the reason behind it, but considered the circumstances unfair.
Ur Rahman's wife and five children are all US citizens, but Ur Rahman's citizenship application stalled in 2001 for unknown reasons.
"If he's deported, it's going to be a loss for the community and for his family," Mohammed Saeed said.
Ur Rahman's attorney, Mark Reichel, said he would fight for a lighter sentence to allow his client to remain in the US.
"I'm outraged by this," Reichel said.
Ur Rahman's older brother Obed, a former imam at the Stockton mosque, pleaded guilty to a separate tax fraud charge earlier this year.
Obed Ur Rahman will be released Thursday after serving three months in prison.
Deportation was not an issue for the older brother because he's a naturalized citizen.
by George Warren, GWarren@news10.net