26 June 2012
US Mosque, Church Share Prayer Space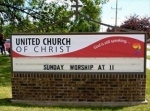 (Ahlul Bayt News Agency) - "We went from rentee to renter," Don Medal, the Council Chairman of Grand Forks' most liberal Protestant Christian church, United Church of Christ, told Grand Forks Herald on Saturday, June 23.
Cooperation between the church and the Muslim community started several decades ago.
It started by the move of UND's Memorial Union and in the Lotus Meditation Center, a private nonprofit group on campus, to host Muslim Friday prayer.
Over the past year, the Muslim group has been renting the UCC space for Friday prayers.
A month ago the decision was taken to buy the space.
The deal was brokered by Nabil Suleiman, an assistant professor of civil engineering at UND and the spokesman for the group that has agreed to buy the UCC building.
The church decision was taken in a trial to find other sources for the church which older and more established members have passed on in recent years to be replaced by younger members.
Collecting rent the past year from the Muslim group helped, but wasn't a long-term answer.
"Budget-wise we could not afford the building and it was much more important to stay together as a congregation and keep the pastor than to keep a material thing like the building," Medal added.
Mills will continue to pastor the UCC congregation, as well as its yoked parish partner, Zion Congregational UCC in Manvel, ND.
US Muslims are estimated at between six to eight million.
http://abna.ir/data.asp?lang=3&Id=324514
/smh_