24 June 2012
Bosnian Muslims guilty of war crimes
l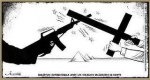 ocal court on Friday sentenced two Bosnian Muslim brothers to six years in prison for killing two Serb civilians during the 1992-95 war in Bosnia.
"Saban and Elvir Djelibasic ... committed a war crime against the civilian population and the chamber condemns them both to a six-year prison sentence," judge Darko Samardzic of Bosnia's war crimes court said.
The brothers, both in their forties, had pleaded guilty to the charges.
The men were both members of the Muslim-dominated Bosnian army during the war. When a third brother was killed on the frontline during the fighting in 1992 they went to the central Bosnian village of Turbe where they sought out Serb-owned homes.
There they killed two Serb civilians who happened to be home at the time with automatic weapons, the judge said.
The inter-ethnic war in Bosnia left some 100 000 dead and some 2 million people, half of the pre-war population, displaced. - Sapa-AFP
http://www.iol.co.za/news/world/bosnian-muslims-guilty-of-war-crimes-1.1325896#.T-Wt1ZF_Q9Y