21 June 2012
Muslim man shoots two French policewomen in cold blood. Both die!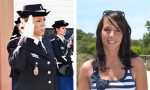 The killer, Abdallah Boumezaar, is a 30-year Algerian Muslim mason
He was let out of jail after serving a prison sentence for drug offenses and armed robbery. He was also recently convicted of serious violence against his mother, but received a suspended sentence. He has already spent nearly ten years in prison for drug trafficking, theft, violence.
The policewomen were responding to a call about an Arab who had robbed a purse from a female neighbor. Abdallah, who is big and tall, struck the police sergeant, stole her gun, and shot the 35-year-old mother of two with several shots to the face.
The second policewoman, newly married, ran to hide in a small alley, but the killer shot her to death with at least 7 bullets to the back, using her own gun. Boumezaar then fled on foot along with "one of his wives." But the helicopter and 300 police officers managed to track him down and arrest him. He has confessed and is now awaiting sentencing.
http://www.european-freedom-initiative.org/