19 June 2012
Status of five Christian converts in Shiraz Unknown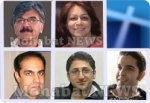 It is now 130 days since five Christian converts were arrested by plain clothes security officers in Shiraz. Their situation has been unknown ever since
According to Iranian Christian news agency,« Mohabat News », last February a report was published on a wave of arrests in Shiraz and just after it the pressure by the authorities on Christians increased in various cities of Iran.
It is now 130 days since five Christian converts were arrested by plain clothes security officers in Shiraz in Fars province. Their condition has been unknown ever since as they are being held in Adel-Abad prison in Shiraz. Shiraz is 934 KMs south of Tehran, the capital.
Their names are Ms. Fariba Nazemian and Messrs. Mojtaba Hosseini, Homayoun Shokouhi, Mohammad-Reza Partoei (Koroush) and Vahid Hakkani.
Knowledgeable sources told Mohabat News, Ms. Fariba Nazemian is being held in a terrible situation in the women's ward together with drug addicts and murderers. This has impacted her safety there. She is the wife of Homayoun Shokouhi, another Christian prisoner.
Although these five Christian converts have not been officially charged with any crimes yet, some judicial authorities announced their charges as attending house church services, promoting Christianity, propagating against the regime and disturbing national security.
The received reports indicate that no date has been set yet to address the cases of these Christian converts. This means they must remain in uncertainty after these 130 days in prison. This is an obvious example of physical and mental abuse of the detainees.
The important point is that one of the prison guards openly told one of these Christian detainees that all these pressures and uncertainties are intended to make them flee the country after they are released, because the Islamic Republic authorities believe that the regime and its foundations are based on the Quran so they don't want Christians in the country!
The five Christian converts were taken to court last April for the first time. Actually, they were transferred to the Islamic Revolutionary Court in Shiraz. There, Mr. Rezaei, the assistant of the branch interrogated them. After the interrogation was completed, they were sent back to the Adel-Abad prison.
Prior to this, some judicial authorities were quoted as saying no bail amounts would be established for these five Christian converts' temporary release.
It should be remembered that security authorities raided a house on February 8, 2012, after they identified it as a house church. The group of Christians who had gathered there to worship were ill-treated and eventually arrested. They were then taken in police cars to the detention center of the Intelligence Office in Shiraz, known as "Pelak 100", for interrogation.
Three other Christian detainees arrested in the same incident were temporarily released on bail of 100,000,000 Toman (around 85,000 USD) on March 14, 2012 after 36 days in detention with no idea about what comes next. These temporarily freed Christian converts must wait until they are called to the court for their hearing.
Therefore, we call on all Human Rights organizations and associations to publicize the critical situation of the Iranian Christian community. This includes protesting the recent closure of the Farsi-language Church of Janat-Abad, condemning the brutal and illegal actions of regime agents towards Christian converts and pleading for official recognition of their rights and the immediate and unconditional release of imprisoned young Christians.
http://mohabatnews.com/index.php?option=com_content&view=article&id=4779:status-of-five-christian-converts-in-shiraz-unknown&catid=36:iranian-christians&Itemid=279