16 June 2012
Congressional Leaders Call for Investigations of Muslim Brotherhood Penetration of the Obama Administration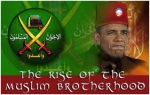 responsibilities to investigate whether their agencies are being subjected to influence Five influential Members of Congress called yesterday for the inspectors general (IGs) of government departments with national security
operations mounted as part of what the Muslim Brotherhood calls its "civilization jihad." This initiative holds out hope that a grave, and largely unremarked, threat may thus be recognized and thwarted in time.
In a joint press statement, each of these congressional leaders expressed profound concern about the dangers posed by the Muslim Brotherhood and the need to understand that threat here in the United States. What is more, they cited in their letters evidence of the penetration of Brotherhood operatives and allies inside the Obama administration, and examples of policies that appear to have been influenced as a result.
The legislators explicitly draw upon documentation of that evidence contained in Parts 8 and 9 the Center for Security Policy's new, ten-part online video curriculum: The Muslim Brotherhood in America: The Enemy Within(www.MuslimBrotherhoodinAmerica.com).
Center President Frank J. Gaffney, Jr. said:
"These five key legislators are to be commended for their exemplary leadership on a matter of utmost peril to this country – namely, the stealthy effort being made by avowed enemies of this country, the Muslim Brotherhood, to destroy us 'from within.' Their request for the five inspectors general to conduct investigations of the Brotherhood's progress toward that end – and report back within ninety days – will hopefully be seconded by others in both parties and be swiftly addressed by the IGs, given their responsibility for conducting such independent inquiries within executive branch agencies. The Center for Security Policy's extensive research, and the online course that presents it, shows those inquiries are fully warranted and urgently needed – as are, for that matter, corresponding investigations by the Congress, as well."
The Center for Security Policy is a non-profit, non-partisan national security organization that specializes in identifying policies, actions, and resource needs that are vital to American security and then ensures that such issues are the subject of both focused, principled examination and effective action by recognized policy experts, appropriate officials, opinion leaders, and the general public.
http://www.rightsidenews.com/