30 May 2012
Sudanese woman reportedly sentenced to death by stoning for adultery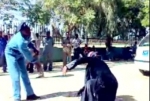 (KHARTOUM) – A court in the Sudanese capital Khartoum has sentenced an unidentified woman to be executed by stoning for committing the "crime of fornication" under Islamic Shariah laws, local newspapers reported on Wednesday.
The sentence was handed down on 14 May by Judge Sami Ibrahim Shabo who presides over the general criminal court in Um Bada area, in the suburbs of Khartoum's twin-city of Omdurman.
According to the privately-owned daily newspaper Al-Ahram al-Yawm, the court issued the sentence after the defendant refused to "retract her earlier confessions" that the child she gave birth to is from a man other than her husband.
The man she said she had a sexual relationship with has denied the charge and was therefore acquitted by the judge.
The predominantly Muslim Sudan is supposedly governed by Shariah laws under the rule of the Islamist National Congress Party (NCP).
However, there are no recorded cases of courts applying the extreme punishments of stoning to death for adultery or the amputation of hands for theft.
Newspapers said that the sentence has been referred to the Supreme Court for final approval.
http://www.sudantribune.com/