30 May 2012
Radical mosques invite young Tunisians to jihad in Syria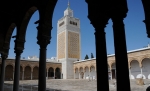 Some of Tunisia's radical mosques are calling on young people to fight in a jihad in Syria against the regime of President Bashar al-Assad, a religious affairs official said Friday.
According to official estimates, about 400 of Tunisia's approximately 5,000 mosques are now in the hands of radical Islamists. The number has grown since the Tunisian revolution, which started at the end of 2010 and led to the overthrow of longtime dictator Zine ElAbidine Ben Ali.

"It's a problem, and we are looking for solutions," Ahmed Bergaoui, a religious affairs ministry official, said of the jihadi calls.
On Thursday, Interior Minister Ali Larayedh also raised concerns over the issue, but provided no figures on how many had gone to fight in Syria.

"We deplore these young people going on misadventures," Larayedh said. "Some have been killed, others imprisoned and others continue to fight in Syria. We are watching these things closely."

Many in the Muslim world -- and the broader international community -- have looked on in dismay as Assad's regime has waged a bloody crackdown on dissent for more than a year.

U.N. Secretary-General Ban Ki-moon this week said up to 10,000 people have been killed in the violence.

Syrian ambassador to the United Nations Bashar Jaafari warned on May 10 of "foreign terrorists" in Syria.

He claimed his government had acquired confessions from "26 terrorists, some of whom are affiliated to al-Qaeda," noting that most were from Tunisia and Libya, plus a Palestinian and a Jordanian.