16 May 2012
Groups condemn lynching of two pastors in mistaken identity case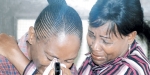 The umbrella body of evangelical churches and a human rights organisation have condemned the lynching of two pastors at Jomvu in Mombasa early this week.
Federation of Evangelical and Indigenous Christian Churches of Kenya asked the police to pursue the case up to the end, with the culprits arrested and charged in court.
On Thursday, the federation's national chairman, Mr Joseph Methu, said punishment of killers of the two clerics in a case of mistaken identity should be used as an example to those who spearhead crime.
"Time has come for the government to enforce the law and bring to book those who participated in the act that saw innocent pastors on a preaching mission burnt to death," said Mr Methu.
At the same time, Muslim for Human Rights (Muhuri) said there was a need for the police to update the public on the investigations into the killing of four religious leaders in mysterious circumstances in the province recently.
Muhuri executive director Hussein Khalid accused the police of incompetence in the way they were handling murder cases.
"We are asking the police to publicise findings of investigations into the killing of two clerics in Jomvu — Pastor Benjamin Juma of Nyali Baptist Church and his colleague, Pastor Jackson Kioko of Melchidizek Church of Buxton.
The police must also give us details about the killing of Pastor Stephen Mwandaghina in Taita-Taveta County last month," said Mr Khalid.
He added: "The police need to tell us about the death of Muslim preacher and activist Samir Khan. He was found dead in Tsavo recently."
Coast Provincial police boss Aggrey Adoli said a special team had been set up to investigate the lynching of the two pastors.
"A team of detectives has been set up to investigate the case and those found guilty will be charged with taking law into their hands," said Mr Adoli.
As police continue with their investigations, there are conflicting reports by the church and Jitoni residents in Jomvu, where the two pastors were lynched.
The pastor in charge of Melchidizek Church, Mr Samuel Wainaina, said the owner of the home the clerics visited was converted into a Christian a few weeks.
His family, however, dismissed the conversion claim.
Ms Mapenzi Abdalla, one of the members of Mr Mutana Nyandu's family, said they were all Muslims and no one had converted to Christianity as claimed by Pastor Wainaina.
Ms Abdalla said three people had visited their home and they even welcomed them before confrontation ensued after one of them took a bag containing paraphernalia used by the family to treat the sick.