10 May 2012
Poll: Most Egyptians think US aid billions have 'negative effect'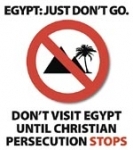 The United States has given billions of dollars to Egypt in recent decades, but research published Tuesday by a major think tank suggests most Egyptians think American aid is having a "negative effect."
A poll by the Washington-based Pew Research Center also reveals growing Islamic sentiment among Egyptians since the Arab Spring, with 66 percent thinking Islam plays a major role in the country's political life compared to 47 percent in 2010.
---
Six in 10 want to see Islamic law strictly enforced, compared to just six percent who feel it should have no influence
The poll comes after local media and the country's parliament heavily criticized U.S.-run non-governmental organizations, which are accused of meddling in Egypt's affairs. Many Egyptians were incensed when U.S. citizens under investigation - including Sam LaHood, son of U.S. Transportation Secretary Ray LaHood - were allowed to leave the country.
Muslim Brotherhood shocks Egypt with presidential run
There was also widespread anger that the U.S. withheld support for opponents of Hosni Mubarak's regime until it became apparent the ruler would fall.
Cairo receives $1.3 billion annually from the U.S. government in military aid, according to the State Department. However, the Pew poll shows six in 10 Egyptians think it has a negative effect – a figure that may prompt calls in the U.S. for aid to be cut.
Only one in five Egyptians have a positive attitude toward the United States, and less than one third expressed confidence in President Obama. Among young Egyptians, Obama's popularity decreased by half in the past year.
Dr. Gamal Abdul Gawad, professor of political science at the American University in Cairo, told msnbc.com that Egyptians are disappointed in Obama.
"They had high hopes but feel that he did not deliver," he said. "They liked the position he took after his election toward the Middle East but did not see any follow up."
The results might disappoint those who hoped Egypt would follow in the path of Turkey, whose moderate Islamic government is making overtures to the West in its bid to join the European Union. Sixty-one percent of Egyptians told Pew they would prefer to follow the fundamentalist Saudi Arabian model of government.
"Egyptians feel that the world has left them alone during the hard time after the revolution," Gawad said. "The U.S. made lots of promises but did not deliver, which further intensified the negative feelings people already had toward the U.S."
Egypt lifts ban on American activists from leaving country -- if they post bail
There is also bad news for Egypt's immediate neighbors: most Egyptians favor overturning the 1979 peace treaty in which Egypt became the first Arab country to formally recognize Israel.
Roughly six in 10 want to annul the treaty, up from last year's 54 percent. Opposition to the treaty significantly rose over the last year among young people and the highly educated, Pew said.
The Pew report is based on a survey of 1,000 Egyptian adults, conducted between March 19 and April 10, 2012.
Msnbc.com's Alastair Jamieson contributed to this report.
Follow us on Twitter: @msnbc_world