10 May 2012
Number of Mosques in Occupied Area of Cyprus Increasing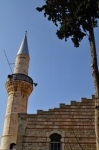 Newspaper Kibrisli reports that Near East University (YDU) will construct a new mosque in the Turkish-occupied part of Cyprus.
Editor-in-chief Kartal Harman writes that construction will begin in June. He also comments on the fact that there are far too many mosques in the Turkish-occupied area, even more than schools.
"It is obvious that some do not think that 192 mosques are enough," he declares and continues, "No one cares that the total number of our schools is 160."
Harman writes also that there is one hospital for every 66,250 people and one mosque for every 1,380 people. Moreover, there are 187 villages in the occupied area of Cyprus and 192 mosques.
According to the editor, there is one doctor for every 364 people in the occupied area of Cyprus and one religious commissary for every 836 people.
http://eu.greekreporter.com/