09 May 2012
Central Java: Islamic extremists attack sanctuary of the Virgin Mary, repelled by police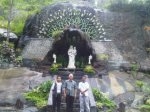 Jakarta (AsiaNews) - Tensions remain high in central Java, where a crowd of a thousand Islamic extremists have targeted a shrine to the Virgin Mary: For security reasons, yesterday the authorities suspended the
programmed church service, while dozens of policemen and soldiers guarding the place of Christian worship, fearing further - possible - violence. According to the protesters, incited by Muslim extremists, the building has no building permit required by law (the infamous IMB) and, over time, from "simple house of prayer" it has become a real church. The faithful respond that "in more than 40 years" there has never been an incident of sectarian nature.

After the three Christian churches - two Catholic and one Protestant - were forcibly closed in Java in recent days (see AsiaNews 07/05/12 Extremist threats in Aceh: authorities close three churches), the attention of Indonesian Islamic extremists has now shifted to the shrine of Lady Mary in Sengon Kerep, Sampang sub-district in Gedangsari in Gunung Kidul regency in Yogyakarta (Central Java province). Sunday, May 6th a mob of a thousand fanatics tried to seal off the building, but the intervention of soldiers and police foiled the attack.

The full name of the shrine of the Virgin Mary (pictured) is Taman Maria Giri Wning Sengon Kerep and in local language, it means "The garden of the silence of Mary Sengon Kerep". Over the past three years the place of worship has undergone a major restoration work, and has always attracted a huge crowd of believers with one purpose: prayer.

Among other things, the sanctuary belongs to the Wedi parish in the district of Klaten, which is famous for the contribution it has made over the years to the Indonesian church and, more particularly, the Archdiocese of Semarang. There are hundreds (if not thousands) of priests, nuns, men religious from the area, supported with passion and devotion by the faithful. Even two bishops were born in the parish of Wedi. This is why there is special devotion and attention to the Marian shrine and the Catholic community will continue to be vigilant to preserve its integrity. In a message to the faithful Msgr. Johannes Pujasumarta Pr, Archbishop of Semarang, called for calm and for faithful not to give in to provocation: "Do not show or respond with violence - said the prelate - even if the tension continues to grow."
http://www.asianews.