04 May 2012
Attacker of Danish 'Mohammed' cartoonist sentenced to 10 years in prison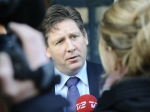 COPENHAGEN — The Somali man who attacked a Danish cartoonist for caricaturing the Prophet Mohammed will serve 10 years in prison before being expelled from Denmark, the Supreme Court confirmed Wednesday
"There is no reason to change the 10-year prison sentence," Denmark's highest court ruled, stressing that Mohamed Geele, who attacked cartoonist Kurt Westergaard at his home on January 1, 2010 with an axe, was guilty of "attempted terrorism".
The court also confirmed that once he has served his sentence the now 30-year-old Somali citizen would be expelled from Denmark and banned from ever returning
Geele, who has been living in the Scandinavian country since he was 14 and has a wife and four young children there, had appealed his sentence to the Supreme Court, insisting the attack had nothing to do with terrorism and that he had only been trying to frighten Westergaard.
He was initially sentenced to nine years behind bars in February 2011, but an appeals court hiked his sentence four months later to 10 years.
"I feel somewhat sorry for this Geele. But it is satisfying for me to see an end to this case," Westergaard himself told the Ritzau news agency Wednesday.
"Such an action is indeed terrorism. He attacked me, but he affected all of society," he said.
The Somali broke into 76-year-old Kurt Westergaard's home near Aarhus in central Denmark on January 1, 2010 wielding an axe and screaming, "You must die! You are going to hell!", according to the cartoonist's testimony last year.
Geele, who is suspected of having links to the Somali Islamist movement Al-Shebab, had threatened police arriving on the scene with his axe and knife and was shot twice before being placed under arrest.
Westergaard has faced numerous death threats since the publication of his drawing, the most controversial of the 12 cartoons of the Prophet Mohammed that appeared in the Danish daily Jyllands-Posten on September 30, 2005 and which sparked angry and at times deadly protests across the Muslim world.
Wednesday's ruling came as four people face trial in Denmark for "attempted terrorism" for allegedly plotting to massacre staff at the same paper over the cartoons.
http://news.nationalpost.com/