24 April 2012
Christians driven out of northern Mali by Islamist rebels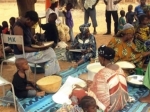 Christians in Mali are in desperate need of aid after being forced to flee their homes when Islamists rampaged through the north as part of a violent rebel takeover.
Ethnic Tuareg rebels, including Islamist movement Ansar Dine and a separatist group, seized control of northern Mali following a military coup that overthrew the government on 22 March. Boko Haram, the Islamist group that is waging war against Christians in Nigeria, have also been involved in the fighting.
A Barnabas Aid contact in Mali said:
Horrible crimes have been made against the population: massacres, rape of women, obligation to wear the veil, chasing Christians. All the churches were destroyed in Gao and Timbuktu. All the believers had to flee towards the south, leaving their homes and giving up all their goods.
The heavily armed rebels ransacked and looted homes, vandalised churches and occupied a Bible school in Gao. Ansar Dine, which has links to al-Qaeda and wants to turn Mali into an Islamic state, is imposing sharia law on the region.
More than 215,000 people have been displaced from their homes, many of them crossing into Burkina Faso and Mauritania. Many Christians went to the capital, Bamako; an association of missions and churches has set up a crisis committee to help the refugees who are in urgent need of food, clothes and other essential supplies.
Their plight is compounded by severe food shortages in the Sahel, of which Mali is a part, that have caused prices of basic foodstuffs to double, and even treble in some areas. UN agencies and NGOs have expressed deep concern that the rebel takeover of northern Mali could further exacerbate the food crisis.
Barnabas Aid is providing corn and rice for around 100 Christian families for three months. We are also supplying medicines for children and traumatised women, and covering housing costs for some families.
Dr Patrick Sookhdeo, International Director of Barnabas Aid, said:
Our brothers and sisters in Mali are in a desperate plight. Forced to flee their homes to save their lives amid a violent Islamist takeover that includes the specific targeting of Christians, they are distressed and in great need. The Church in Mali is rallying to help, but in the midst of a grave food crisis, resources are limited and expensive. They therefore need practical support from Christians overseas. Please help us to meet this urgent call today.




http://www.barnabasfund.org/