22 April 2012
Bosnia opens trial of Muslims for war crimes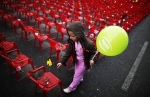 (Reuters) - Eight Bosnian Muslim wartime officials went on trial on Thursday accused of the torture and abuse of Serbs in detention camps near the Serb-besieged
capital Sarajevo, 20 years after the start of the 1992-95 war.
Few cases have been opened against Muslim officials since the war, fueling Serb accusations against the Sarajevo authorities of practicing selective justice.
In the latest case, camp guards and local officials are accused of crimes committed in three detention camps in the Sarajevo suburb of Hadzici during the 43-month siege of the city by Bosnian Serb forces on the hilltops.
Prosecutor Marjan Pogacnik said four prisoners died in the camps.
"The detainees there were taken into hallways and beaten or forced to beat each other by guards and other individuals until they fainted," Pogacnik said. "They were denied medical assistance or access to international humanitarian agencies."
Some 11,500 people died in the siege of Sarajevo, while Bosnian Serb forces seized large parts of the country and cleansed them of non-Serbs after Muslims and Croats voted for independence from socialist Yugoslavia.
The vast majority of the 100,000 people killed in the war were Muslims, but war crimes were also committed by Bosnian Muslim and Croat forces.
Pogacnik said defendants Mustafa Djelilovic, the former head of the nearby Hadzici local assembly, and Fadil Covic, the former police chief in the neighborhood, were aware of the inhumane conditions at the camps but failed to act or move the prisoners. The six other accused were guards at the camps.
The Bosnian court was opened in 2005 to prosecute low- and mid-ranking war crime cases and ease the burden on the Hague-based war crimes tribunal for the former Yugoslavia, which focuses on top war crimes indictees such as Bosnian Serb wartime leader Radovan Karadzic and his military chief Ratko Mladic.
(Reporting By Maja Zuvela)