13 April 2012
Family of New York City Police Officer Phillip Cardillo, slain in a Harlem mosque in 1972, want a federal probe Read more: http://www.nydailynews.com/new-york/family-york-city-police-officer-phillip-cardillo-slain-a-harlem-mosque-1972-a-federal-probe-art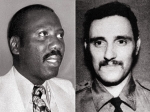 The family of a city cop gunned down 40 years ago in a Harlem mosque murder wants federal investigators to reexamine the still-unsolved mystery.


The press for a federal probe comes just weeks after a five-year NYPD probe into the April 14, 1972, killing of Officer Phillip Cardillo found nothing.
The officer's family has already reached out to Southern District prosectors about a federal investigation, said Randy Jurgensen, a retired NYPD investigator who wrote a book on the case.
"They're going to the Justice Department with 2,300 signatures on a petition," said Jurgensen, the lead detective in the initial probe. "They are calling for the full force, legal and proper, of the Justice Department."
The only suspect ever charged in the slaying, Lewis 17X Dupree, was acquitted in a second trial after the first ended with a hung jury.
Jurgensen said FBI documents indicate there was a relationship of some sort between the feds and Dupree.
At the heart of any new investigation, according to one source, is whether the FBI had any informants or electronic surveillance inside the mosque, which was then headed by Minister Louis Farrakhan.
Cardillo and his partner responded to the mosque on a bogus report of a fellow officer in trouble, only to find themselves outnumbered by at least 15 men.
Cardillo, 32, died from a gunshot wound to the chest.
"I was a cop for 20 years," said Jurgensen, "and you don't close a case on a cop killing. I don't care if the case goes cold. It's never closed."
rparascandola@nydailynews.com


Read more: http://www.nydailynews.com/new-york/family-york-city-poli...