31 March 2012
Robbers Preying on Gays Held in Moscow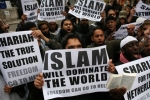 Two natives of the North Caucasus republic of Dagestan were arrested in Moscow on suspicion of robbing at least 30 gay Muscovites, three of whom were killed, city police said.
The suspects, aged 22 and 25, advertised online as male prostitutes, but attacked clients in their homes to rob them, the report said, without providing any names.
The income sufficed to rent an apartment on downtown Bolshaya Yakimanka Street, where prices range from 40,000 to 120,000 rubles ($1,400 to $4,000) a month, according to Incom real estate agency's website.
Investigators began to look into the case after the death of one of the victims was reported to police, the report said. No criminal charges have been filed against the duo, but multiple murder carries a sentence of up to life in prison
http://en.ria.ru/crime/20120323/172351494.html