11 March 2012
Gainsborough man jailed over anti-Islam images in his flat window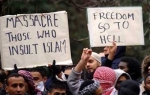 A GAINSBOROUGH man who plastered his front window with vile anti-Islamic hate literature has been jailed for a year.
Darren Conway, a self-confessed supporter of right-wing organisations, was given a 12-months' sentence at Lincoln Crown Court.
The court was told on Tuesday that carer Conway had covered the front window of his ground floor flat in Heaton Street in Gainsborough with 17 photographs and posters.
Many were offensive – attacking both the prophet Mohammed and the Muslim religion.
Conway, 44, had denied displaying the religiously aggravated hate material on April 16 last year.
But he was convicted following a short trial earlier this year, when sentencing was postponed for reports to be prepared.
Judge Michael Heath told Conway: "To describe the material you put in your window as grossly offensive is an understatement.
"There is no place in a civilised society for conduct of that sort and the only sentence I can justify for it is an immediate custodial sentence."
Conway was also given a three-month concurrent jail sentence – to run alongside the longer term – after admitting unlawful production of cannabis.
Sixteen cannabis plants were found growing in his home when police visited to investigate the hate crime.
Christopher Lowe, prosecuting, said that Conway, who admitted to supporting both the BNP and the English Defence League, was caught after a member of the public complained to police.
"Later that day police attended the premises and found 17 posters and images
in the front window in full public view," said Mr Lowe.
"The majority of the displayed posters and images were undoubtedly offensive to the Islamic faith.
"Conway was arrested at the scene and taken into police custody.
"He appeared to make out that those posters were, more or less, an opportunity to get back at his landlord.
"He was trying to justify them on a political and religious basis.
"In the back room was found a small grow of cannabis plants. Sixteen plants were growing under heated lamps."
Tony Stanton, in mitigation, said Conway appeared to have displayed the material as part of an ongoing dispute with his landlord.
He said Conway had no history of similar offending and spent much of his time caring for his elderly father.
"His father has suffered multiple strokes and cannot get out," said Mr Stanton.
"This defendant involves himself in regular activity such as shopping for his father. That person would suffer should he lose his liberty."
http://www.thisislincolnshire.co.uk