04 March 2012
Monsters laughed during gang rape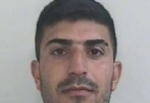 Two sex beasts who laughed as they gang-raped a woman in a city flat are starting indeterminate sentences given by Preston's top judge.
Rezgar Nouri, 27, of no fixed abode, and Mohammed Ibrahim, 23, of Aeroville, London, will both have to face a parole board before they are deemed safe to be released.
A third man, who was involved in the attack, is still being hunted by police.
Sentencing the pair, Judge Anthony Russell, Recorder of Preston, said: "The facts of this case are amongst the worst to have come before this court in recent years."
The victim, who is in her 20s, sobbed in the public gallery as he added: "The circumstances of this incident will disgust all right-minded people who hear about it.
"Your victim is a thoroughly decent person who was out in Preston with her brother and friends, enjoying herself.
"It seemed that night she was somewhat worse for wear. This meant her guard was down, and you took advantage of that situation for your own gain. This was a sustained attack and was particularly degrading, because throughout it the people who were perpetrating the offences were laughing."
Both defendants, who wore orange tops and jeans, were emotionless in the dock, as sentence was passed at Preston Crown Court yesterday. Each pleaded guilty to two counts of rape – but had originally denied the offence, changing their pleas after being presented with damning DNA evidence, the court heard.
Prosecuting, Kirsten McAteer said the victim became separated from her group during a night out on June 25, last year, when she met Ibrahim.
She said: "Her next recollection is waking up in a flat and she was naked. She was on a sofa. There were three men in the room with her, Ibrahim was standing over her as she recovered consciousness."
The court heard Ibrahim and a third man then raped her. The victim remembered her attackers laughing when they finished, before repeated attacks.
Afterwards, Nouri came out of a bedroom, dragged her up from a sofa and pushed her into a bedroom where he, too, raped her.
She was later pushed into a bathroom where her clothes were and told her to get out.
Miss McAteer said the victim was attacked again when she attempted to pick up her mobile phone. She was then shoved down the stairs and told to leave.
A group of people saw her in a distressed state, and she was taken to Royal Preston Hospital. She was so badly injured she could not be examined by specialists for four days.
The pair were given an indeterminate sentence for public protection, with a minimum term of six years.
Det Sgt Chris McCreadie, of Preston CID, said: "This was an extremely traumatic incident for the victim and, although it will have an impact on her for the rest of her life, I hope that the sentencing of these two men provides some closure for her
http://www.lep.co.uk/