04 March 2012
$5M paid to buy freedom for rights workers held in Egypt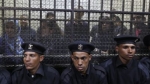 CAIRO – Seven American rights workers are on a plane out of Egypt after the U.S. paid nearly $5 million in bail costs to secure their freedom.
Egyptian officials said the U.S. paid $300,000 each for 16 Americans, nine of whom were already out of the country.
The State Department said the money was paid by the nongovernmental organizations where the democracy and rights workers work. However, the NGOs receive U.S. funding for their operations.
State Department spokeswoman Victoria Nuland said workers from other international organizations were also on the plane. They were Norwegian, Serbian, Palestinian and German.
Nuland said the plane was headed to a destination in Europe but didn't want to say where in order to protect their privacy until the workers decide how much they want to speak to the press. Reports said the plane was headed to Cyprus.
"Frankly, we don't want the plane mobbed when they land," Nuland said, refusing to identify who was on the plane.
"None were in custody or subject to arrest," just subject to travel restrictions, a situation Nuland described as an "ordeal."
Egypt lifted the travel ban on the seven late Wednesday and set the bail. Sen. John McCain, R-Ariz., said at a news conference on Capitol Hill Thursday that the Americans were on a plane out.
The International Republican Institute, which had workers among those held in Egypt, said in a statement that it welcomes the decision and is hopeful the charges will be dismissed.
"IRI views the decision as a positive development but remains very concerned about the situation and our Egyptian employees along with the continuing investigations of Egyptian civil society groups and the impact it will have on Egypt's ability to move forward with the democratic transition that so many Egyptians have sought," the statement read.
American officials had been evaluating developments in the a case, Secretary of State Hillary Clinton said Sunday after an Egyptian judge delayed the trial until late April. She called the situation "fluid" with "a lot of moving parts."
The workers are charged with operating without a license and using illegal foreign funds to foment unrest.
Last week, Egyptian Judge Mahmud Mohamed Shukry adjourned the trial until April 26, a period of time that was clearly made to enable a diplomatic solution to be reached.
Prosecutor Khaled Suleiman told Reuters news service that the individuals and their organizations are accused of espionage and being in contact with the CIA as well as providing reports on Egypt to the U.S. State Department.
A convoy of white vans carrying the sign of U.S. Embassy had arrived at Cairo airport carrying the seven Americans, who include the son of U.S. Transportation Secretary Ray LaHood. They had sought refuge at the U.S. embassy, fearing arrest.
The Associated Press contributed to this report.


Read more: http://www.foxnews.com/politics/2012/03/01/us-buys-freedo...