18 February 2012
Syrians flee their homes amid fears of ethnic cleansing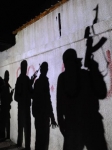 Not everyone is relishing Assad's end. Charlotte McDonald-Gibson meets the members of his Alawite sect living in fear
While many countries have thrown their weight behind the opposition, with the UN General Assembly late on Thursday night approving a resolution calling on Mr Assad to cede power and Britain pledging £2m in aid to Syrians affected by the fighting, the situation remains dire.
Syrian troops are continuing their shelling of the central opposition stronghold of Homs and the familiar diplomatic fault lines prevail. China and Russia voted against the UN resolution and Beijing has sent a diplomat to Damascus. In Paris, however, David Cameron and the French President, Nicolas Sarkozy, said yesterday they were debating what further assistance they could provide to the opposition.
But it is the sectarian fault lines on the ground that are threatening to escalate the bloodshed, fuelled, some say, by the determination of Mr Assad, an Alawite, to plunge Syria into chaos rather than admit defeat.
Wafaa Ahmad, an insurance saleswoman from a middle-class Alawite family, has for the past 42 years lived a quiet life. Asked about the current massacre in her home town of Homs, however, and she transformed in an explosion of tears and fury, fierce in her support for Mr Assad's vicious onslaught.
"If you are a killer, you have to be killed. It's you or me – what do I think? It's a case of existence: your life or my life. I'm not a killer, but I'm ready to be armed and kill if this will end what is happening," she told The Independent. It is fear that is driving Ms Ahmad's rage. Alawites and Christians are scarred by the experience of Egypt, where the toppling of Hosni Mubarak brought more persecution for Christians and a rise in Islamic political parties. A worse fate awaited regime loyalists in Libya, where armed militias have brutally punished those perceived as backers of the late Colonel Muammar Gaddafi.
Syria is a delicate tapestry of religions. Members of the Sunni Muslim branch of Islam make up more than 70 per cent of Syria's 22 million people. But they have for decades been sidelined from positions of power by members of the Assad family's Alawite sect, a branch of Shia Islam that makes up 12 per cent of Syria's population. Added to this mix is a significant Christian and Druze population.
And while many members of the opposition are desperate to keep their revolution secular, reports from US officials of Sunni extremists and al-Qa'ida-linked fighters entering Syria from Iraq are further stoking fears and playing into the regime's narrative of an Islamist uprising. Many Sunnis also feel a sense of rage against Alawites who have sided with government even as they commit atrocities.
"The sectarianism was there in the Syrian society, and they (the Assad regime) used it and played a game with it," said a Damascus engineer, a Christian who supports the opposition.
For Ms Ahmad, the harassment began six months ago, when a note was nailed to her family home is in a predominantly Sunni neighbourhood of Homs. It said: "You have to leave or you will die." So her family of seven adults and five children moved to an Armenian Christian area. She said most of her Alawite neighbours did the same. While both sides in the conflict are at pains to show that they are the one who can protect the minorities, it is the Assad family that has a track record.
"We support this government because it is good for us... we don't have to pay for power in the church or in the mosques; we don't have to pay for water," said Boutros Esber, pictured left, a priest at the Greek Orthodox Mariamite Cathedral in Damascus. As he spoke, hundreds of Christians and Muslims took part in a regime-sponsored rally to show how united the religions are – an event, opposition supporters said, designed to do the opposite and to drive a wedge between the diverse populations. "There is a tendency to say the Syrian regime was protecting the minorities," the Damascus engineer said. "But Assad is not protecting the minorities – he's protecting himself with the minorities
http://www.independent.co.uk