14 February 2012
Triple slaying suspect arrested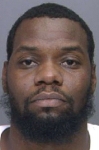 Police have arrested the second of two alleged gunmen in a triple slaying and robbery attempt at a West Philadelphia grocery store in September
Nalik Shariff Scott, 30, of the 1300 block of South 24th Street in South Philadelphia, was picked up Saturday without incident, authorities said. No further details were released.
Another suspect, Ibrahim Muhammad, was taken into custody on Friday. He allegedly shot the owner of Lorena's Grocery, his wife and her sister during the holdup attempt.
Muhammad, 31, of Southwest Philadelphia, was originally arrested Thursday afternoon on an unrelated drug charge. The next day, he was charged with three counts of murder in the grocery killings
Police said the two gunmen entered the family-owned store at 50th and Parrish Streets at about 8 p.m. on Sept. 6. Scott fired the first bullet into Porfirio Nunez, who turned 50 that day, police said. Nunez fell in one of the store aisles.
Muhammad then shot Carmen Nunez, 44 and her sister Lina Sanchez, 48, as they sought cover, authorities said. He fired the fatal bullet into Porfirio Nunez while stepping over the wounded man, police said.
The gunmen did not shoot Nunez's two teen daughters, who hid behind the counter. The suspects fled on foot to a car around the corner. No money was taken from the store.
On Thursday, more than 100 narcotics officers made drug sweeps through Southwest and West Philadelphia seeking information on recent homicides in the area, police said.
At about 3:30 p.m., police arrested Muhammad with a small amount of marijuana in a home he shared with his girlfriend in the 6200 block of Reedland Street, police said.
Last week, police linked the triple slayings in September to an August robbery of a corner store at 62d and Reedland Streets and the shooting of a North Philadelphia store clerk earlier in the summer.
Police said surveillance footage provided clearer images of the attackers' faces.
http://articles.philly.com/