04 February 2012
Couple charged in marketing scam involving 'halal' Muslim food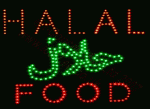 A federal grand jury has indicted a Lawrenceville couple for stealing $300,000 from the U.S. government in a scheme involving the foreign sale of foods designated "halal," or meeting the dietary guidelines of the Muslim faith, authorities said Thursday
Mushtaq Mistry, 46, and Waheeda Bano Mistry, 42, were indicted on charges of wire fraud, false statements and money laundering, according to a news release from the U.S. Attorney's Office in Atlanta. They were assigned bonds of $25,000 each during an initial appearance before U.S. Magistrate Judge Russell Vineyard.
"The Department of Agriculture's Market Access Program is designed to make it more financially feasible for U.S. companies to advertise in international markets. These defendants are charged with defrauding the program by submitting false claims for advertising expenses in Dubai that never happened," U.S. Attorney Sally Quillian Yates said.
As owner of Salwa Foods, a company that produces halal frozen foods, Mushtaq Mistry allegedly submitted false claims to the U.S. Department of Agriculture for marketing expenses – TV commercials advertising Salwa products – from April 2007 through August 2009.
The Market Access program reimburses food producers up to half the costs of marketing their products internationally. Mushtaq Mistry falsely told the program he had paid for TV ads in Dubai to promote Salwa Foods in the United Arab Emirates, but no ads were ever purchased, prosecutors said.
The loss attributable to the false claims totaled about $300,000, prosecutors said.
As part of the scheme, the couple allegedly transferred funds to companies owned by the wife, who then obtained checks drawn on their accounts and payable to the Dubai TV networks.
But the checks were never delivered to the TV networks, prosecutors said. Waheeda Mistry re-deposited the funds in her companies' accounts and transferred the money back to Salwa Foods, they said.
The indictment charged the husband with 15 counts of wire fraud, 3 counts of making false statements to the Commodity Credit Corp., 1 count of conspiracy to commit money laundering and 11 counts of money laundering. The wife has been charged with 1 count of conspiracy to commit money laundering and 11 counts of money laundering.
If convicted, the couple could be sentenced to up to 20 years in prison on each wire fraud and money laundering count as well as face maximum fines of $250,000 to $500,000, prosecutors said. Each false statement charge carries a maximum penalty of five years in prison and a fine of up to $10,000.
http://www.ajc.com