16 January 2012
Thai police find large cache of bomb-making materials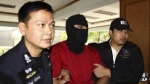 Police in Thailand say they have found a large supply of materials for making bombs, following the detention of a suspect with alleged links to Hezbollah.
The suspect led police to a building containing more than 300 boxes of fertiliser and ammonium nitrate.
The raid follows the terror alert issued by the US and Israel warning citizens to avoid tourist sites.
Prime Minister Yingluck Shinawatra said that the situation was under control.
The suspect, who was detained last week, is said to be a Lebanese man with a Swedish passport.
Police say the man has links to Hezbollah, a Lebanon-based Shia Islamist movement backed by Syria and Iran that the US considers to be a terrorist organisation.
A second suspect is also believed to have left Thailand.
A police spokesman told local media that the chemicals were going to be shipped out of Thailand for use in an unspecified third country.
The US embassy still has not lifted the warning it issued on Friday stating that Americans should "exercise caution when visiting public areas where large groups of Western tourists gather
http://www.bbc.co.uk/