12 January 2012
Convert feared kidnapped by Muslim hardliners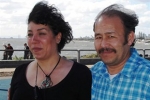 The husband and friends of an Iranian refugee missing since last month fear she has been kidnapped by Islamic extremists because of her efforts to convert Muslims to Christianity.
Melbourne woman Mandy Ahmadi disappeared from her Dandenong home on December 16, leaving behind her handbag, money and credit cards, The Age reported.
Moving to Australia in 1999, Mrs Ahmadi became a Christian five years ago, and her husband Nathan converted from Islam a year later.
Mrs Ahmadi became active in the migrant community, helping Muslims leaving detention centres through an agency she co-founded at a local church.
"It is so painful. My heart and my brain are frozen," Mr Ahmadi was quoted as saying.
Pastor Daniel Nalliah expressed his concerns in an email sent out yesterday.
"I was able to give some very important insight as to how under Islamic Sharia law, Muslims converts are sentenced to long terms in jail, torture and in places like Iran and some other Muslim countries, they are executed," Mr Nalliah wrote.
"If this is an abduction, then we are really fighting against time, as to whether Mandy is still alive is a very big question."
Under a hardline interpretation of Sharia law, Muslims who leave the religion can be sentenced to death.
Mr Nalliah, who worked as a missionary in Saudi Arabia before founding the controversial Catch the Fire Ministries, successfully defended a lawsuit from the Islamic Council of Victoria after being accused of religious vilification in 2002.
http://news.ninemsn.com.au