01 January 2012
Egypt's Islamist hard-liners oppose Christmas greetings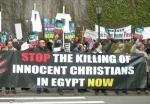 CAIRO — An ultraconservative Egyptian Islamist group says sending Christmas greetings to Christians is "against our
beliefs," a position immediately rebuked by other Muslims.
Nadar Bakar, spokesman of the hard-line Al-Nour party, said Wednesday that Muslims should give greetings to Christians only on "personal occasions," not religious ones.
Al-Nour represents the ultraconservative Salafi movement, which wants to strictly impose Islamic law in Egypt. Al-Nour has won a surprisingly strong 20 percent of the vote so far in Egypt's staggered parliamentary elections.
The remarks prompted Egypt's Al Azhar, the most eminent religious institution, to issue a religious edict approving Christmas greetings. The country's most influential Islamist group, the Muslim Brotherhood, responded by sending "its best Christmas wishes to our brotherly Christians and Muslims as well."
http://www.deseretnews.com/