30 December 2011
Bombs, threats ahead of New Year in Lebanon resort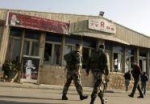 TYRE, Lebanon — Zuheir Arnaout seethed with anger as he surveyed the damage from a bomb that targeted his restaurant in Tyre, one of the few cities in southern Lebanon where alcohol is still tolerated
"What is it they want? To stop people from drinking, from having a good time?" he demanded outside the popular "Tyros" restaurant on the scenic Mediterranean seafront.
On Wednesday, a bomb made of two kilos of TNT exploded and caused extensive damage to the restaurant, destroying the "Tyros" band's instruments in the process.
The attack came a few days before New Year's Eve and was the third of its kind targeting alcohol-friendly restaurants in Tyre in the past two months.
No one has yet claimed responsibility for the bombings in Tyre, an ancient Phoenician city that boasts a picturesque port and Roman archaeological sites.
Home to both Muslims and Christians, Tyre is also popular among expats and UN peacekeeping troops deployed in southern Lebanon along with their families.
Like many Tyre townsfolk, Arnaout believes the bombings aim to kill off the city's lucrative tourism sector, which peaks in summer, as well as its popularity during the winter holiday season.
"There are rumours going round that some want to prevent the New Year's Eve countdown from being celebrated in Tyre," he said.
But Arnaout insisted he would not give in to threats.
"New Year's Eve will be celebrated in this restaurant -- the livelihood of 32 families depends on it," he told AFP.
Another restaurateur, who asked not to be identified, said he had received an anonymous call advising him not to organise anything for New Year's Eve.
"They said it would be best for me and my restaurant," he said.
But he said the blows dealt to business in Tyre by a string of bombings in recent months has left him no choice but to push on with the festivities.
"My restaurant cost me half a million dollars to build, and since the last bombing we have basically had zero business," he said.
Other restaurant owners are taking a more cautious approach, with some hanging signs in their windows reading: "We regret we are unable to offer alcohol."
Another restaurant owner who also requested anonymity said: "We were hanging posters advertising our bash with alcohol galore on the evening of December 31.
"They were torn down overnight, and we have no idea who might have done it." On November 16, twin bombings hit Tyre in an attack officials said targeted the few remaining alcohol-friendly shops and clubs in conservative southern Lebanon.
The targets of the November bombings were a nightclub in a Shiite neighbourhood popular with UN troops and a liquor store in the Christian quarters of the city.
The campaign to rid the south of alcohol has been running for years.
Alcohol shops in the southern town of Nabatieh, where the majority of residents are Shiite Muslims, were forced to close their doors this year after popular protests demanding that the town become alcohol-free.
The recent bombings, combined with a campaign of intimidation by local conservative parties and their supporters, have also forced several liquor vendors in Tyre to close shop.
Tyre is politically controlled by the Shiite Amal Movement, a party led by parliament Speaker Nabih Berri and allied with the powerful militant group Hezbollah.
Salah Sebraoui, vice president of Tyre's municipality, told AFP officials had taken measures aimed at lessening the tension, installing surveillance cameras across the city.
But despite such measures, the streets of the normally bustling Tyre were eerily empty on Wednesday, as tension gripped the city's neighbourhoods.
Some people have even begun to change their plans for the New Year, a holiday that is wildly popular in multi-confessional Lebanon.
"We have cancelled our reservation for 20 people on New Year's Eve and we'll probably head to Beirut to celebrate instead," said Hisham Bitar, a 44-year-old Muslim who is married to a Christian.
"If fundamentalists are behind these bombings, if their aim is to drag Tyre back to the Middle Ages, this is totally unacceptable," said Hoda, a shopkeeper in Tyre.
"Why don't they just let people live their lives?"
http://www.google.com/