10 December 2011
Judge upholds CAIR official's conviction in terrorism funding case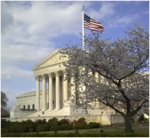 A Federal court has upheld the conviction of multiple officials with the Council on American Islamic Relations and others for providing
funding to a terrorist group.
The Holy Land Foundation trial was the largest terrorism funding trial in American history. CAIR, the Islamic Society of North America and other Muslim organizations were named as un-indicted co-conspirators in the case.
While the first trial ended in a hung jury, a subsequent trial found the parties guilty on charges of material support of terrorism.
The Holy Land Foundation was once the largest Muslim charity organization in the United States. HLF was under investigation for years before finally being closed down by the Bush administration after the terrorist attacks on 9/11.
On Wednesday, Judge Carolyn Dineen King, with the Fifth Circuit Court of Appeals, issued a ruling upholding the conviction.
King wrote, "While no trial is perfect, this one included, we conclude from our review of the record, briefs, and oral argument, that the defendants were fairly convicted. For the reasons explained below, therefore, we affirm the district court's judgments of conviction of the individual defendants. We dismiss the appeal of the Holy Land Foundation for Relief and Development."
One of the convictions upheld was Ghassan Elashi, founder of CAIR's Texas chapter. Elashi received a 65-year prison sentence for funneling over $12 million from the Islamic charity known as the Holy Land Foundation to the jihad terrorist group Hamas, which is responsible for murdering hundreds of Israeli civilians.
CAIR, which says it is dedicated to enhance understanding of Islam and empower American Muslims, has had multiple leaders within the organization that have either had ties to or been convicted in terrorism cases. Some of them include:
Nihad Awad: Executive director of CAIR. Wiretap evidence from the Holy Land case placed Awad at a Philadelphia meeting of Hamas leaders and activists in 1993 that was secretly recorded by the FBI. Participants hatched a plot to disguise payments to Hamas terrorists as charitable giving. According to FBI transcripts, Awad was recorded discussing the propaganda effort during the meeting.
Omar Ahmad: Founder of CAIR and chairman emeritus. U.S. prosecutors named Ahmad as an unindicted co-conspirator in the Holy Land case. FBI special agent, Lara Burns, testified at the trial that Ahmad was also at the Philadelphia meeting. Prosecutors also designated him as a member of the Muslim Brotherhood's "Palestine Committee" in America.
Bassem Khafagi: CAIR's former community relations director, was arrested for involvement with the Islamic Assembly of North America, which was linked to al-Qaida. After pleading guilty to visa and bank fraud charges, Khafagi was deported.
Abdurahman Alamoudi: Another CAIR director, Alamoudi is currently serving 23 years in federal prison for plotting terrorism. according to the U.S. Treasury Department, Alamoudi, who was caught on tape complaining that bin Laden hadn't killed enough Americans in the U.S. embassy bombings in Africa, was one of al-Qaida's top fundraisers in America.
Mousa Abu Marzook, a former CAIR official, was designated by the U.S. government in 1995 as a "terrorist and Hamas leader." He now is a Hamas leader in Syria.
Randall Royer: Former civil rights coordinator for CAIR. In 2004 Royer began serving a 20-year prison sentence for aiding al-Qaida and the Taliban against American troops in Afghanistan.
http://www.greeleygazette.com