07 December 2011
Islamists win 42 seats in run-off of Egypt's 1st stage parliamentary vote: initial results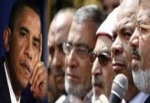 CAIRO, Dec. 7 (Xinhua) -- Egypt's Muslim Brotherhood and Salafists have won 42 individual seats in the run-off round of the first stage of the country's parliamentary elections, state media reported Wednesday, citing preliminary results
The two most powerful Islamic forces in Egypt gained 80 percent of the 52 individual seats contested in the run-off, consolidating their gains in the first stage of the multi-phase polls, the Ahram newspaper said. Final results for the second round of vote will be announced Thursday.
Abdel Moez Ibrahim, head of the High Judicial Elections Commission, said the election results of the El Sahel constituency in Cairo were annulled in accordance with a ruling of the Supreme Administrative Court. The district reported loss or damage of dozens of ballot boxes in the first round of vote on Nov. 28-29.
A rerun will be held in this constituency on Jan. 10-11, with a run-off on Jan. 17-18.
The first-stage vote for the People's Assembly (lower house of parliament) was held on Nov. 28-29 in nine governorates, including Cairo and Alexandria. Up for grabs in this phase were 56 seats for independents and 112 seats for party lists.
Results of last week's vote showed that the Muslim Brotherhood' s moderate Freedom and Justice Party captured 36.6 percent of the 9.73 million valid votes, followed by the ultra-conservative Nour Party with 24.4 percent. Only four independents secured their seats in the first-round vote.
The new People's Assembly will have 508 seats, of which 498 seats will be decided by voters and 10 seats will be appointed by the president of the country. Some 50 parties and more than 6,000 independent candidates have registered to contest in the polls. The vote will be held in three stages, each with a run-off one week after the first round. The whole process will end on Jan. 10, 2012, and the final results will be announced by Jan. 13.
The most promising parties are the Freedom and Justice Party, which dominates the Democratic Alliance; the Nour Party, a key member of the Islamic Alliance; the Egyptian Bloc led by the Free Egyptians Party; and the liberal Wafd Party.
The elections for the Shura Council (upper house of parliament) will begin in late January and end in early March, also in three stages. Egypt's parliament was dissolved shortly after the fall of ex-President Hosni Mubarak in February amid anti-government protests.