13 November 2011
Boulder County Muslims find elbow room in former Baptist church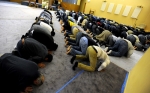 Inside the worship room, carpeting bought off Craigslist covers the floor. Near the front door, simple wire shelving holds dozens of pairs of shoes. Out on the street, dank pieces of paper hung inside a sign box announce a mosque at the corner.
Saied Mabrouk admits it's a modest space with few flourishes and an obviously dated look.
"This is a 40-year-old building; it has a lot of maintenance and repairs for us to do," Mabrouk said before Friday prayers began at the Islamic Center of Boulder.
But he said the center's new location, at 5495 Baseline Road, is a vast improvement over where the local Muslim community used to have to gather for worship -- a cramped low-slung building on Culver Court in Boulder that the center occupied for 30 years.
The new site, which the Islamic Center of Boulder bought for $1.85 million in August, is more than 13 times the size of its predecessor -- 20,000 square feet versus 1,500 square feet.
Where once the fire code limited congregants to 90 at a time, now up to 700 can be accommodated. There's no need to elbow in for a spot on the floor, and women can comfortably pray at the same time as the men, either in the main worship hall or in a separate room.
"It was very crowded," William Shutze, a Russian language and culture major at the University of Colorado, said of the city's previous mosque. "People were completely smooshed into rows."
Mabrouk said members will be painting and touching up the building's exterior to make it look a little more cared for over the next few months, though there are no plans --and no funds -- to do a complete overhaul. The mosque is collecting donations to pay back the no-interest loans it got to acquire the land and building.
"It doesn't have to look like a classical mosque you see in Egypt -- the most important thing is that we have a place to worship," Mabrouk said.
About 100 faithful showed up Friday to pray at the center, the interior of which still hints at its Christian origins as one-time home to Bethany Baptist Church. The church's altar sits abandoned in one corner of the worship hall, while congregants sit facing another corner of the room that puts them into the most direct line with Mecca.
Mabrouk said the center's Muslims are perfectly comfortable practicing their faith in a space that was long home to those of another of the world's major religions.
"The very same God that was worshipped here before will continue to be worshipped," he said. "Jesus and his God will be mentioned in reverence."
Abu Hira, who delivered a cerebral sermon Friday on the place of science in Islam, called the 3-acre site at the corner of Baseline Road and 55th Street a "sacred space."
"We know our religions are different, but the Muslims are here to glorify God, which was the intended purpose of this building anyway," he said.
Hira said with the additional space and plentiful parking, the Islamic Center of Boulder can now throw open its doors to the community in a far more inviting and effective way than it could when it was located near 28th Street. Over time, Hira said, the center hopes to add a library, Arabic and Muslim courses, and religious classes for children.
And with women now able to fit comfortably into the center for prayers, Donna Mabrouk, Saied Mabrouk's wife, said the mosque is gaining back old members and picking up new members every week.
"It really was difficult before," she said. "We didn't feel as much a part of the community. Now we have the facilities to become a part of the community."
Contact Camera Staff Writer John Aguilar at 303-473-1389 or aguilarj@dailycamera.com.