04 November 2011
Egypt: Salafists veil statue of sirens in Alexandria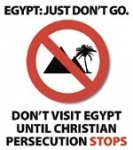 (ANSAmed) - CAIRO, NOVEMBER 2 - The shapes of the mermaids that embellish the fountain of Zeus in the centre of Alexandria have been deemed "inappropriate" by the Salafist Al Nour (Light) party, which decided to "veil" them completely with a sheet during a meeting yesterday evening
The incident, which was reported by the website of the Al Masri Al Youm newspaper, has unleashed a wave of comment and disbelief on Twitter, where the paper posted pictures "before and after the niqab" of the fountain of the sirens, upon which an enormous placard carries the words: "Egyptian women devote themselves to their husbands and their nation".

Political leaders of the party, which is at the head of a coalition of Islamist parties that will stand in the forthcoming Egyptian elections from November 28, had recently announced that they were against the statues, deeming them contrary to Islamic tradition, the newspaper reports. "Covering a statue of sirens will certainly lead us to Paradise. I can't wait," was the ironic reaction of one Twitter user.

The electoral campaign for the first legislative elections of the post-Mubarak era officially began today and will end two days before the polls open. (ANSAmed).