29 October 2011
Coptic Christians Protect Monastery From Egyptian Army Assault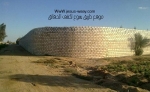 (AINA) -- Hundreds of Coptic Christians mobilized on Tuesday in front of the Monastery of the Virgin and St. John the Beloved, located on the Desert Road from Cairo to Ismailia. Although the Monastery has the necessary permits, the army had sent a message to
the monastery that they would come on the next day, October 25, to demolish its fence, which guards it from unauthorized visits and criminals.
The official website of the Monastery warned of threats of a " new massacre" by the Egyptian Armed Forces, and the removal of its fence, pointing out that the Monastery was built in 2002 and is under the supervision of the secretariat of H.H. Pope Shenouda.
When the Army vehicles with demolishing equipment arrived at the monastery, they were met by priests, monks, deacons and Copts all dressed up in white for mass, holding wooden crosses, praying and singing hymns.
Other Copts flocked to the Monastery, which lies 80 miles from Cairo, on hearing of the news.
Upon seeing this congregation of Copts in front of the Monasteery, Brigadier Shukry, who issued the demolition order, ordered his unit to withdraw. Church sources said that this might mean that he intends to implement the removal orders without prior warning to avoid the gathering of Copts.
Army engineers later came to the monastery, filmed the fence and the crowds, and said that the images will be sent to the commander of the army to decide what will be done.
Bishop Botros, Pope Shenouda's secretary and General supervisor of the Monastery of Our Lady and St. John, said that relative calm returned to the Monastery by the evening, pointing out that the Monastery holds the official papers and licenses from the authorities. He expressed fears of renewed threats and attack on the monastery again.
On April 4, 2011 the armed forces demolished the Monastery's fence, but when protests were raised, the authorities apologized the next day, claiming that they thought it was a "farm." Brigadier Tarek el Kady asked Bishop Botros to raise a cross and hang a sign for the monastery on the main road. Afterwards he said the authorities have registered the place as a monastery and permission for a fence was given, which had to be rebuilt. There was peace until this incident.
About 15-20 Copts refused to go home and slept in front of the Monastery to guard it from army "attacks," as they put it. "We are not committing a crime, we only ask to be left to pray," said one of them.
The armed forces have stormed several monasteries Since the January 25 "Revolution", demolished fences and fired on monks and visitors.
By Mary Abdelmassih