23 October 2011
European aid workers kidnapped in Algeria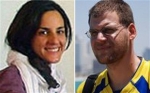 Three European aid workers – two Spanish and an Italian – at a refugee camp in western Algeria have been kidnapped by suspected al-Qaeda-linked separatist militants.
A colleague of one of the Spanish hostages said over Spanish radio that "several gunshots were heard" and two people were wounded during the kidnapping from the Rabuni camp near Tindouf, mainly inhabited by Sahrawi refugees from Western Sahara who seek greater autonomy.
The information ministry of Western Sahara's Polisario Front independence movement said the Spanish hostage and a Sahrawi guard were wounded.
In the Mauritanian capital Nouakchott, a security official told the AFP news agency that al-Qaeda's north Africa wing was behind the kidnapping.
They "were taken hostage by elements of AQIM (al-Qaeda in the Islamic Maghreb) under the authority of Moktar Bel Moktar (alias Belewar, the Algerian leader of an AQIM branch," the source said, without detailing the circumstances of the kidnapping.
The Polisario Front's envoy to Algiers said he "directly accused" AQIM of carrying out the kidnapping shortly before midnight on Saturday