16 October 2011
Anthony Weiner Sexting Partner Says Politician Criticized Muslim In-Laws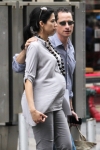 A sexting partner of disgraced former congressman Anthony Weiner is releasing a book this week detailing more about what the New York politician wrote in the infamous text messages that cost him his job.
Traci Nobles, a former cheerleader coach from Georgia, has written a book, "I Freinded You," with the intentional misspelling. In excerpts obtained by MailOnline, Nobles writes that Weiner sent her a "friend" request and began Facebook chatting with her after she posted on his public Facebook page. She said he used the Yahoo chat name "rockoh77″ and his avatar was a picture of his niece
Weiner resigned in June after he tweeted a lewd photo of himself. He at first lied, saying his Twitter account had been hacked, but then admitted to sending the photo and carrying on sexually charged electronic relationships with several women.
In excerpts of Nobles' book obtained by MailOnline, she writes that she and Weiner shared more than just dirty talk. Weiner confided in her about his relationship with his in-laws, allegedly saying they were "backwards thinking."
Weiner is married to Huma Abedin, Secretary of State Hillary Clinton's deputy chief of staff. Abedin is pregnant with the couple's first child. She and her parents are Muslim. Weiner is Jewish.
In one text, Weiner allegedly writes, "Well a lot has to do with religion … lots of restrictions and how I've never really been accepted by them."
Nobles says he texted her that Abedin's parents believe he should convert to the Muslim faith.
"Yeah, it makes for a lot of uncomfortable meetings," Weiner allegedly texted.
A spokesperson for Weiner declined to comment on the book.
http://abcnews.go.com/blogs/headlines/2011/10/anthony-weiner-sexting-partner-says-politician-criticized-muslim-in-laws/