12 October 2011
Egypt state television admits to making up news over soldiers' deaths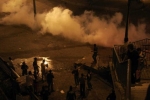 CAIRO: Egypt's state television announced on Monday that there are no deaths among the military forces after previously reporting there were during the bloody Sunday clashes between the military and Coptic protesters, saying that it was the fault of the news presenter.
State TV, also known as Maspero, is under fire from rights activists for falsely reporting that the Coptic protesters attacked the military forces with weapons, which resulted in the death of at least three soldiers and the called on the Egyptian people to take to the street to help protect the armed forces.
The news, when reported on Sunday evening, agitated many Muslims, who took up arms and went to the streets of downtown, clashing with protesters, both Muslims and Coptic Christians, injuring dozens in the worst sectarian violence since the fall of ousted President Hosni Muabrak's regime.
State TV also reported that the protesters were armed and initiated the violence that killed the soldiers, which escalated the bloodshed late on Sunday.
The Copts who were marching and demanding justice for the burning of a house of worship in southern Egypt last week, were shot at by the military upon their arrival at the state TV building by the military.
Videos posted online show armored vehicles running over people, killing and injuring scores of them. Eyewitnesses told Bikyamasr.com at the protest that Copts were "not armed" and the army was "not provoked to attack."
International media outlets largely reported on Sunday night Cairo what state television was reporting.
http://bikyamasr.com/