08 October 2011
Parents protest outside the Community Science College at Thornhill following allegations of racist attacks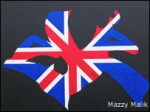 AROUND 20 people protested against alleged racist attacks outside the Community Science College at Thornhill.


Organiser Shaun Maddox, 42, of Thornhill, led the demo as parents arrived for an open evening.
He claimed the protest was designed to draw attention to alleged racist attacks by Muslim pupils.
A council spokeswoman said: "We have been working closely with the school's new headteacher and local residents and are aware of Mr Maddox's concerns.
"We would encourage Mr Maddox to get in touch with the police or the council with any concerns he has so that we can work together to ensure concerns are addressed quickly and effectively."
A West Yorkshire Police spokesman added: "Where matters are reported to the police by a school, we will respond and deal with incidents appropriately."


Read More http://www.examiner.co.uk/news/local-west-yorkshire-news/...